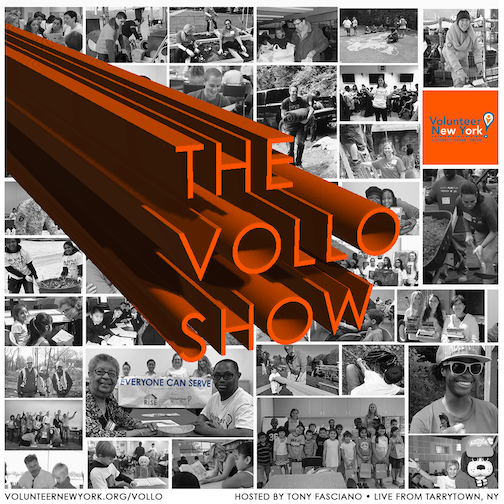 The Vollo Show
A show dedicated to bringing you the most inspiring interviews, stories, and ways you can take action in YOUR community. With host Tony Fasciano broadcasting live from Volunteer New York!, a 501(c)3 not for profit organization in the heart of Tarrytown, whose mission is to help community members get off the sidelines and volunteer locally!

From Rockland to Putnam to Westchester, everyone can say vo, vo, vollo! Everyone can serve with Volunteer New York!

For all inquiries, including if you would like to appear on a future episode of The Vollo Show to publicly thank a volunteer that has helped you, please click here.
---
Listen and subscribe to the Vollo Show on your favorite platform:
Latest Episode
---
April 9, 2021
Ep. 6 - What the World Needed
President and CEO, Points of Light
In this episode, which is made possible with support from Regeneron (who is also a Points of Light Civic 50 honoree), we speak with a leader of the global volunteer movement, Natalye Paquin, and discuss poetry, leadership, inspiration, volunteering memories, while getting a unique and exclusive insight into Points of Light coupled with the amazing opportunity to talk about the science of volunteerism with the person who is helping to write the book!
Past Episodes
---
April 6, 2021
Ep. 5 - 10,000 Eager, Capable, People
CEO and Founder, Interns 4-Good
In this episode, we talk to the Founder and CEO of Interns 4-Good about being a successful social entrepreneur at age 18 and the challenges and opportunities she and her organization has faced throughout the pandemic to grow into what it's become today -- an amazing network of 10,000 eager, capable, people (or teen volunteers) who are helping to define or redefine the differences between Generation Z and Generation X while doing what they can to have their voices heard and their ideas respected.
But wait! There's more. Ellie most notably is also our 2021 Youth Leadership Award recipient and one of the wonderful volunteers who will be recognized at our 41st Annual Volunteer Spirit Awards on Friday, April 9 starting at 9 AM! Click here now: volunteernewyork.org/awards to find out how to participate in this special live-streaming event and help us cheer on as a community and celebrate the local volunteers who inspire us -- like Ellie -- as part of Global Volunteer Month. And if this interview motivates you -- we hope to see you there on Friday with us cheering on local volunteerism!
February 26, 2021
Ep. 4 - Just Do the Good Work
Recorded 2/12/2021: In this episode, we talk about the issues of leadership, diversity, social justice, education, and service during the time of change, challenges, and transition that we find ourselves in today. In this honest and critical assessment of where we are, how we move forward together, and what it means to be a leader, you will find a trove of hard-earned truths and inspirational gems gifted to us from Dr. Wheeler that will leave you thinking about them long after the episode finishes.
"It's often in the small mundane activities that true leadership emerges." - Dr. Darrell Wheeler
About: Darrell P. Wheeler, Ph.D., MPH, ACSW, is a nationally recognized leader, educator, and scholar, who has served as Iona College's provost and senior vice president for academic affairs since 2018 and has been on the front lines passionately fighting and researching infectious diseases since the 1980s, which most notably includes his work with HIV prevention and intervention among African-American, gay, bisexual and transgender communities. Don't forget to subscribe and share!
November 18, 2020
Ep. 3 - Generosity is Not Just a Nice to Have
Recorded just days before #GivingTuesdayNow 2020, the emergency COVID-19 global relief event that took place on May 5, this one-on-one interview with the CEO of Giving Tuesday, Asha Curran, is a mini masterclass on how to build movements, inspire leadership, and the power of generosity to change the world.
"My hope for today is that we see the opportunity, which is to create a world that is better. Not return to normal, but create a world that is better than the one we were in until this moment." - Asha Curran, CEO
Ep. 2 - Welcome to the Vollo Show - PART 2
Executive Director, Volunteer New York!
The engaging one-on-one conversation with Volunteer New York! Executive Director, Jeanette Gisbert, continues in this conclusion to Welcome to the Vollo Show.
As a reminder, this was recorded just days before the COVID-19 pandemic was declared in March 2020. While the times have changed since then, both interviews in this series remain a great way to quickly get to know the emerging local leader, Jeanette Gisbert and to understand how her role as an AmeriCorp volunteer, her 20 years of nonprofit management experience, and her authentic leadership style are coming together at the right time to help Volunteer New York! rise up to the occasion as the demand for their free public services have never been higher (steadily climbing since this interview took place 6 months ago).
Ep. 1 - Welcome to the Vollo Show - PART 1
Executive Director, Volunteer New York!
What you are about to hear in our first Vollo Show episode is an interview with Volunteer New York!'s new executive director, Jeanette Gisbert that was recorded all the way back in March 2020, just days before COVID-19 would be declared a pandemic. It was a different time back then, but the spirit of this interview, which offers a great way to quickly get to know an emerging local leader, remains the same.
Thank you to our new listeners, we hope you will leave comments, likes, and subscribe to this podcast as we continue to bring you great and inspiring stories and interviews like this one! Keep listening to part two of this interview in the next episode.
About The Host
---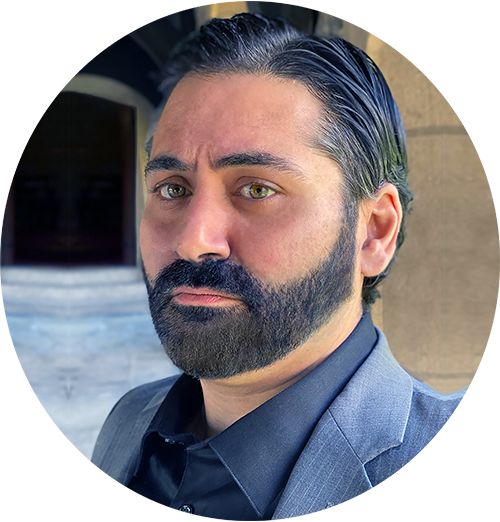 Tony Fasciano was named a 2021 NYN Media 40 Under 40 Nonprofit Professional and is a 2018 graduate of Leadership Westchester. He holds an MFA from Queens University of Charlotte and his background in publishing and small business earned him the 2012 nomination for Digital Magazine Launch of the Year. As a documentary filmmaker, he has interviewed thousands across the continental United States over the last 15 years. His work has appeared in such places as the Tribeca Film Festival, Poets & Writers, El Pais, Entrepreneur Magazine, [PANK], Ploughshares, Cultofmac.com, Gizmodo.com, and others.
Over the last nine years, he has had the privilege to serve as the Director of Communications for Volunteer New York!, which is one of the oldest volunteer connector agencies to be founded in the US, and from where he has helped to inspire 3 million hours of volunteer service throughout Westchester, Rockland, and Putnam counties. He has survived Brooklyn, cancer, and even Florida -- and is proud to call Tarrytown, NY home, where he practices making wood-fired pizza and is volunteering to help build and support 100donors.org.