Attention Local Nonprofits!
Now Accepting Applications To Be Part of Upcoming #911Day
---

9/11: Serve + Remember is an annual community-wide day of service dedicated to honoring the memories of those through service (see
911day.org
to learn more about the National Day of Service and Remembrance movement).
Over the last 9 years Volunteer New York! has worked with Westchester County Government to inspire, mobilize and unite thousands of volunteers in service in tribute to the fallen, the families of the fallen, and the volunteer heroes who emerged in the wake of this unprecedented tragedy that occured only miles away from our community. During September of 2018 over 1,000 local volunteers and families gave their time to help others on #911Day, and in turn, helped us continue to turn a day of tragedy into a day of doing good.
To the volunteers of #911Day: You made blankets for children's hospitals, spent quality time with seniors in New Rochelle, created literacy kits for under-served youth, packed thousands of diapers for families in need, donated blood, set up a community fair in the rain, fought invasive species in Wildflower Woods, made sandwiches, moved furniture, wrote cards for our troops, and more. But, no matter what you did, we did it together.
And for your kind deeds, together we are a more courageous, compassionate and resilient community.
"I Serve" Statements Collected on September 11, 2018 at the Westchester County Center: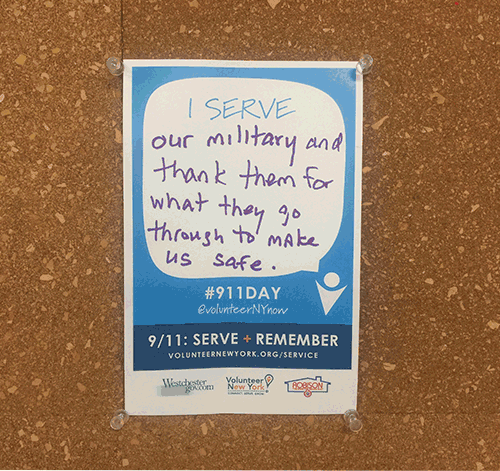 "I Remember" Statements Collected on September 11, 2018 at the Westchester County Center: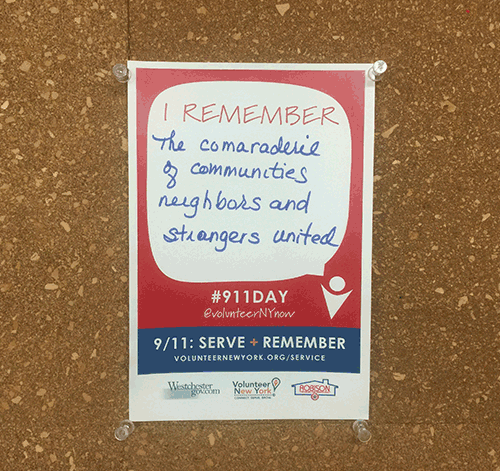 The Impact of 1,000+ Volunteers Turning a Day of Tragedy Into a Day for Doing Good: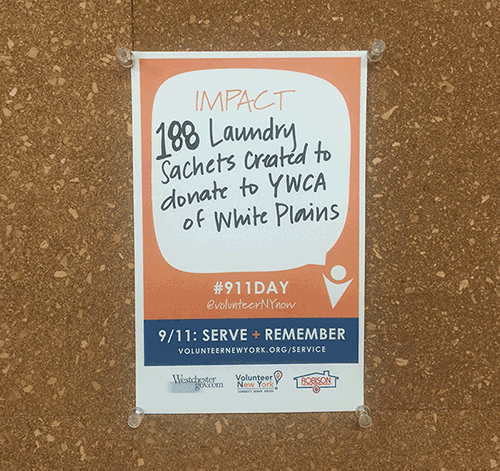 Sign up for our enews to receive alerts for our upcoming volunteer events and the latest local opportunities.