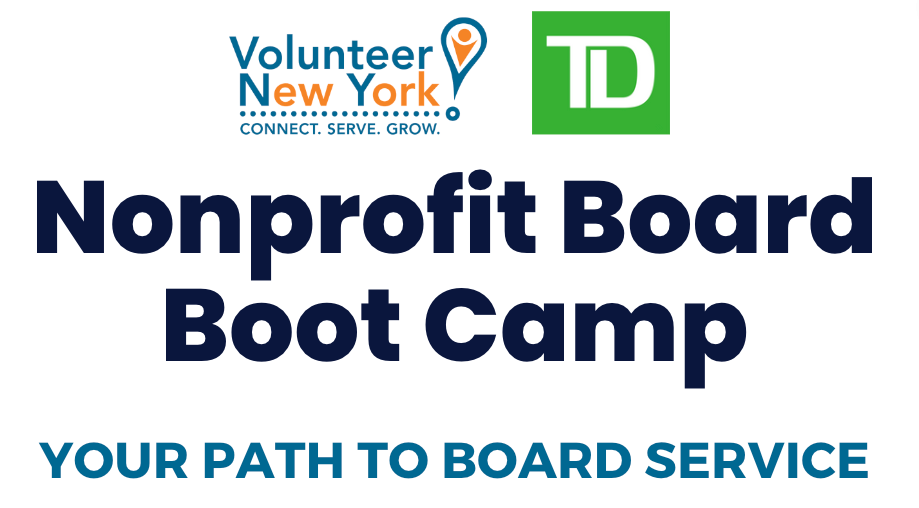 Registration Closed

---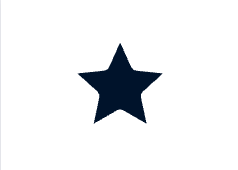 BOOT CAMP SESSION 1
Wednesday, Nov. 2
9 - 11 AM
VIRTUAL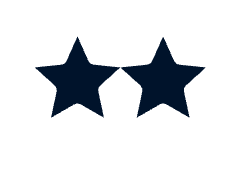 BOOT CAMP SESSION 2
Wednesday, Nov. 9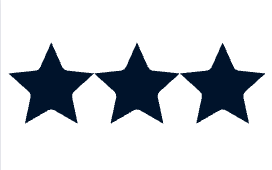 BOARD SPEED DATING
---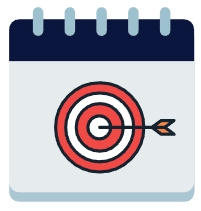 Volunteer New York!'s 8th Annual Nonprofit Board Boot Camp is a hybrid (virtual and in-person) three-part professional development series that offers a guided path to achieve leadership goals through board service and to have a larger impact on your community.
The focus of this program is to increase the pipeline of nonprofit board candidates in Westchester, Rockland, and Putnam County.
---


Michael Trapp, Senior Manager, PKF O'Connor Davies, LLP
Wendy Weinstein, Development Director, Clay Art Center; Board of Directors, Association of Development Officers
Kathleen Macias-Torres, MPA, Executive Director of SPARC Inc.
Tanya Moximchalk, Board Boot Camp Success Story, Board member of Impact 100
Judy Siegel, Senior Staff Attorney, Pro Bono Partnership
Valerie Mason Cunningham, Managing Principal, Pride Matters, LLC; Executive Leadership Coach
Patty Franco, Board Boot Camp Success Story, Board member of Girls, Inc.
Jim O'Shea, Board Boot Camp Success Story, Board member of One Sandwich at a Time
---

The two "Virtual Boot Camp" sessions prepare participants to become successful and valued nonprofit board members.
The sessions are designed to benefit those who are new to board service, as well as those with seasoned backgrounds.
Throughout the two sessions, participants will be introduced to a series of expert speakers discussing both the technical ins & outs of board service as well as the practical aspects that all board members should know, including legal responsibilities, red flags, and best practices to consider.
Participants will also hear from "veteran board members" about the role board service has played in their professional development and in their life.
---

Just bring your skills and an open mind. The professional experience you already have in areas such as business management, finance, law, marketing, operations, design, or education can have a profoundly positive impact on your community when matched to the right nonprofit.
---

Board service is one of the most meaningful ways you can give your time to support your community and is considered to be at the highest level of volunteer leadership.
Participants of this program will also benefit from:
Being able to impact communities where you work and live

Connecting directly to nonprofits seeking board candidates

Strengthening your professional network

Seeing how different nonprofits/boards are structured and operate

Engaging with like-minded community leaders

Deepening your ability to support causes close to your heart

Putting your leadership and teambuilding skills into practice

A greater understanding of the nonprofit sector and how agencies are run
---

"Board Speed Dating" is the third and final event in our Nonprofit Board Boot Camp series.
Since we first introduced it in 2015 this event has helped local nonprofits connect with hundreds of passionate, talented, and prepared board candidates from throughout our community. In 2019
The Wall Street Journal
used this event as an example of how nonprofits are innovating to fill board seats.
It is an important accelerator event that can reduce into a few short hours what sometimes takes nonprofits weeks to months to years of asking and looking for the right person to fill an important board seat. Or that can help a newly launched nonprofit go from two board members to a full quorum in a day. The magic is in the matchmaking, in the lengths we go to plan ahead, in our commitment that all participants will have a positive experience from this event, and in our ability to bring good-minded people together.
The prep work for Nonprofit Board Speed Dating begins during the Boot Camp Sessions when participants are given the opportunity to review the active board needs and candidate requirements of a diverse range of local nonprofits. After Boot Camp, participants are then invited to select which nonprofits they would like to be introduced to during the Board Speed Dating event where they will meet one-on-one with leadership from each of the organizations they picked. And during these one-on-one meetings, both sides of the table typically will discuss their goals, needs, plans, and backgrounds as they explore if there's a potential fit here to achieve more by working together than apart.
Following the event, it is up to both the board candidate and the nonprofit agency to continue the conversation if they feel there was a spark.
2019 Board Speed Dating Participants Discuss Boot Camp:
---

Certifed 501(c)(3) nonprofit agencies from throughout our community are invited to update their previous listings or submit a new request for board candidates by completing this form. If selected by at least three of this year's Boot Camp participants there will be a $150 organization fee to take part in the Nonprofit Board Speed Dating event as an agency.
---