Save the Date for #MLKDAY 2019 - January 19, 2019
Return to this page to register in December 2018 or sign up now for our newsletter notifications.

---
Thank You To All 2018 #MLKDAY Volunteers
#MLKDay is a day meant to honor the legacy of the Rev. Dr. Martin Luther King, Jr. and help fulfill his dream of building a "beloved community" while passing on his message of freedom and equality to future generations. This year there were 22 projects that took place across Westchester, Rockland and Putnam, of which 18 were family-friendly! The MLK National Day of Service is supported by the Corporation for National and Community Service and is meant to help to empower individuals, strengthen communities, bridge barriers, create solutions to social problems and support local nonprofits.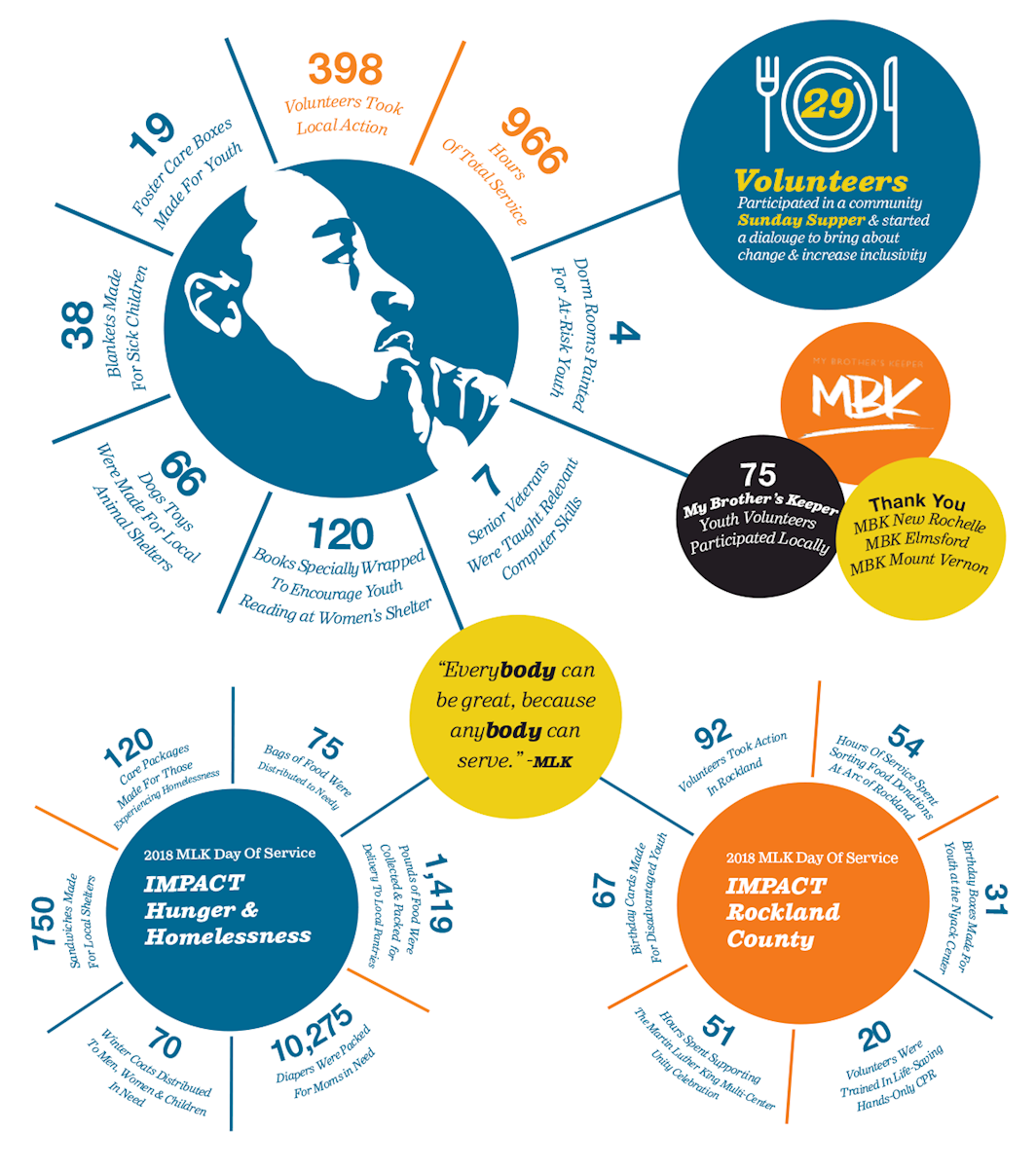 We Have A Dream
Communities Served
Local Nonprofit Agencies Served
Junior League of Central Westchester/
Westchester County Diaper Bank
LPS/LIFE Progressive Services Group
Greenburgh School District
Martin Luther King Multipurpose Center
Mount Vernon City School District
Mt. Kisco Interfaith Food Pantry
New Rochelle Public Library
New York State Veterans Home at Montrose
Nyack Center
One Sandwich at a Time, Inc.
St. Christopher's, Inc.
The Arc Rockland
Worldwide Community First Responder, Inc.
Westchester County Dept. of Social Services
Project Linus
Continuum of Care Partnership for the Homeless
My Sisters' Place
SPCA of Westchester
"Why I Volunteer On MLK Day"
Recorded January 14, 2017
"I'm volunteering today because I believe in people. I believe in love. I believe in freedom and equality" #mlkday #volunteering

Posted by Volunteer New York on Saturday, January 14, 2017