to Leadership Westchester
---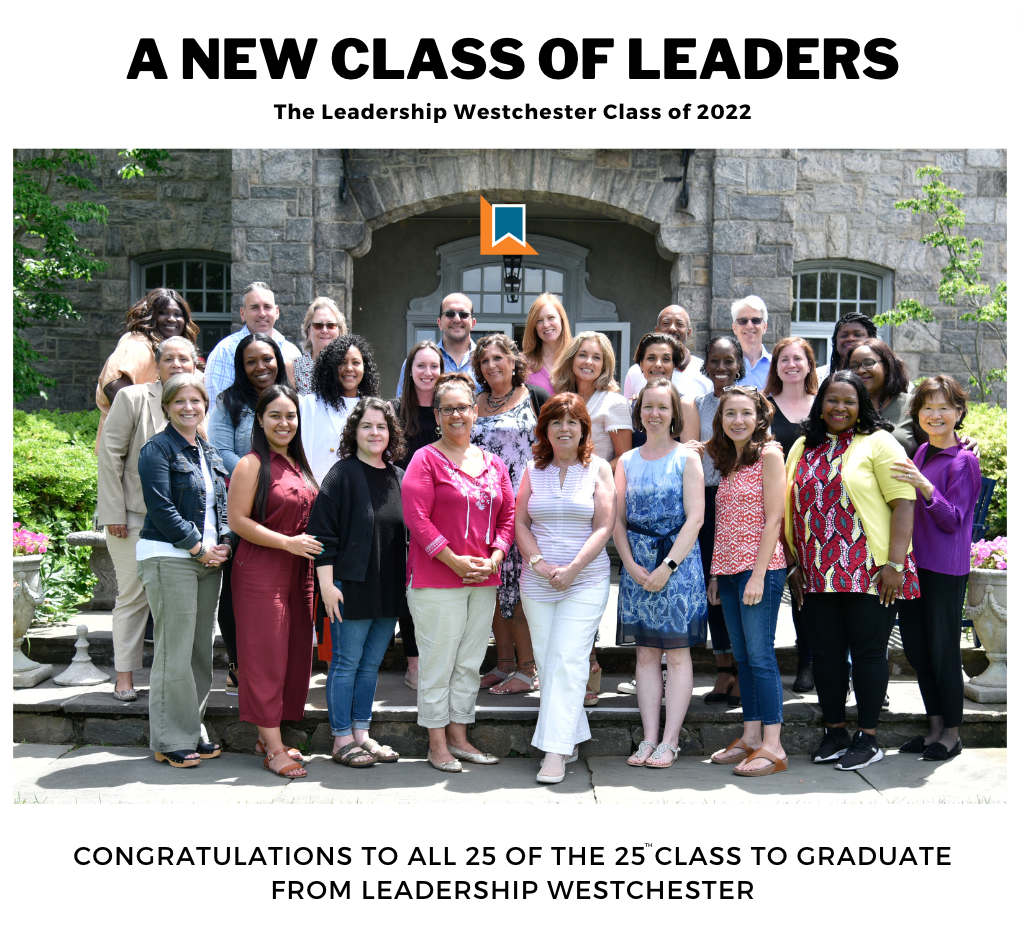 Nathaniel (Nate) Adams III, Boys & Girls Club of New Rochelle
Lynda Bagley, The National Council of Negro Women Inc, Westchester Section
Jill Bradshaw-Soto, Legal Services of the Hudson Valley
Kristina Coleman, Safe Horizon
Patti Colombo, Volunteer New York!
Angela Davis-Farrish, PHM, New Rochelle Municipal Housing Authority
Jessica A. Denaro, Westchester Community College
Roseanne Finizio, Westchester County Executive's Office
Suzanne Gardos, Nonprofit Westchester
Maria Camila Gomez Osorio, Office of Congressman Mondaire Jones
Althema Goodson, Ossining Public Library / Westchester County Board of Legislators / The Goodson Agency, LLC
Dahiema Grant, Grant's Professional Services
Marion Henson, Bloom Healthy
Iskra D. Hernández, Westchester Community College
Lesley Mazzotta, One World Girl
Dawn Meyerski, Mount Kisco Child Care Center
Lindsay Mortimer
Maria (Mia) Pergolizzi, Hope's Door
Nino Pesce, M&T Bank
Nora Phelan, Measurement Incorporated
Kaitlyn Phillips, E.J. York Inc.
Joseph Pizzimenti, Cclean
Jessica Reinmann, 914Cares
Sandhya Subbarao, Boys & Girls Club of Mount Vernon
Lilian Gomory Wu, IBM
---
CONGRATULATIONS TO THE 2022 LEADERSHIP WESTCHESTER
ALUM OF THE YEAR
Congratulations Michelle A. Nicholas, PCSB Bank!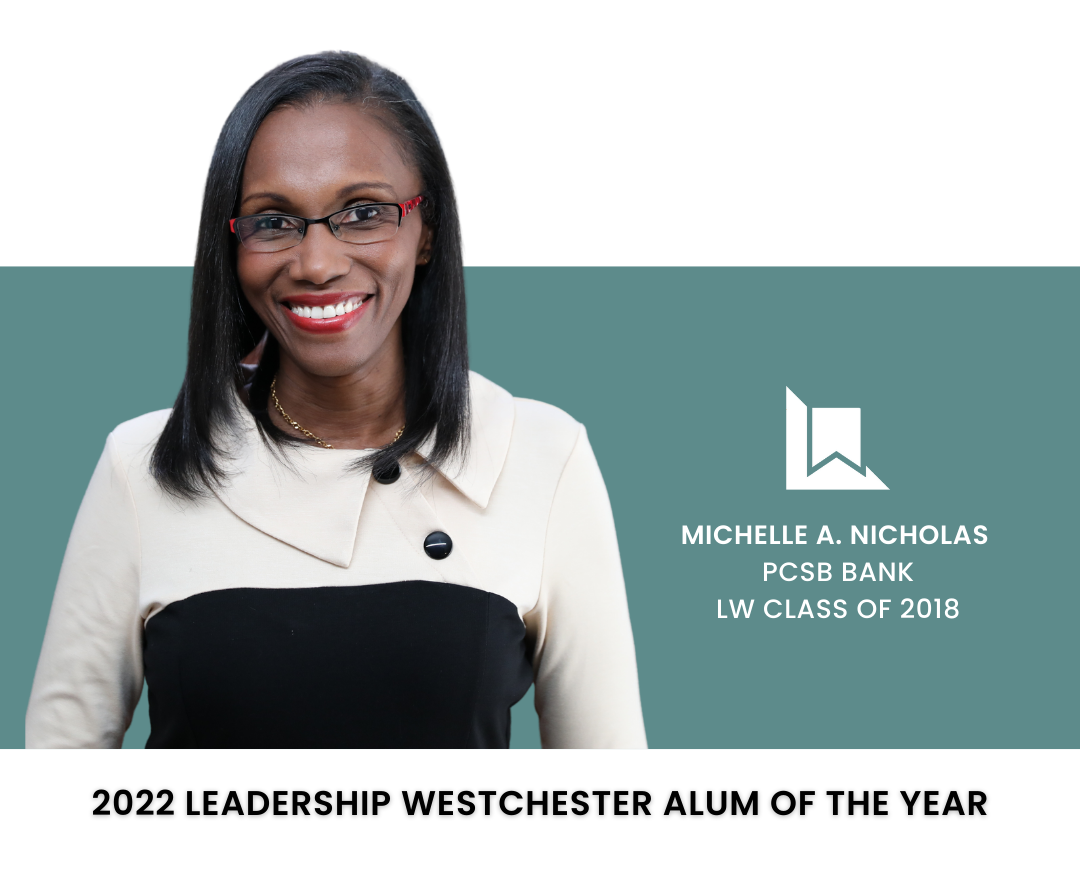 ABOUT ALUM OF YEAR
Michelle A. Nicholas, PCSB Bank
Leadership Westchester Class of 2018
Michelle A. Nicholas is a dedicated advocate of women, children, and inclusive issues who works locally and internationally to instigate change through intentional strategies.
As the Senior Vice President, Chief Diversity Officer and Director of Community Development for PCSB Bank, Ms. Nicholas is a member of the Bank's senior leadership team responsible for leveraging diversity, inclusion, and cross-cultural competency as well as engaging the external community on issues of development to advance the organization's mission and business objectives. She is also a member of the Bank's Foundation Board of Directors focused on providing needed funding to help meet local needs and enrich the quality of life for all throughout the Bank's footprint.
Focused on advancing the well-being of all, Michelle has used her history in and understanding of the public and private sectors to secure funding for programs to benefit those who need it most while ensuring that those who support these programs remain engaged and enthused. She has spent over two decades in various government, corporate and non-profit positions, including several leadership roles in New York City and Westchester County.
Nicholas is the founder of The Nico Consulting, Sexual Assault and Family Education (SAFEGuyana) and Co-creator of 25 Influential Women Leaders Award, and Guyana first Women's Leadership Program. She has been recognized by the Westchester Magazine, Westchester Business Council, The Network Journal, United Way of Westchester and Putnam, Face2Face Africa, Caribbean Life, and Women of Mission International for her work in bridging the gap between available resources and those who need them.
Passionate about people, community, service and committed to her mission, Michelle's civic involvement includes board membership for the United Way of Westchester and Putnam, NonProfit Westchester, Westchester's Women Agenda, and Westchester County's African American Advisory Board.
A graduate of the University of Guyana, Volunteer New York!'s Leadership Westchester, Federal Bureau of Investigation (FBI)'s Citizens' Academy, and the Mount Vernon Citizens' Police Academy, Nicholas is grateful for all that she has been able to achieve.
Michelle is very committed to her family and enjoys spending time being present with them, especially with her son Michael.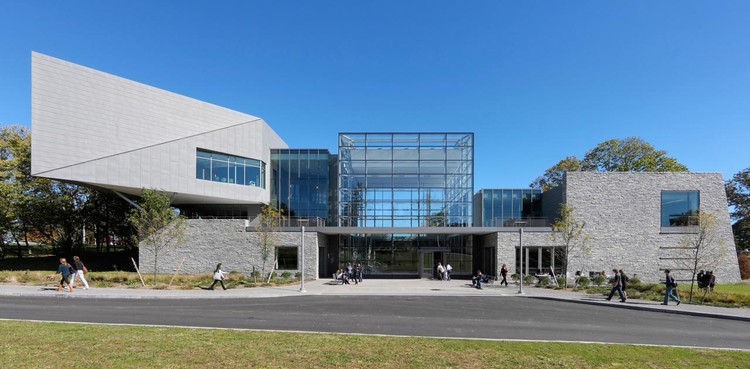 2022 Leadership Westchester Graduation Ceremony &
Thank you to all who joined us on June 21 at the
Westchester Community College Gateway Center
---

UNLOCK YOUR FULL POTENTIAL
Volunteer New York!'s nine-month Leadership Westchester program is designed to sharpen effective leadership skills and provide you with the clarity to define and achieve your personal and professional goals.
The application period for the Leadership Westchester Class of 2024 is currently closed and will open in May 2023. Please reach out to connect with an alum of the program if you have any questions. Inspired by these amazing leaders? This could very well be YOU celebrating your nine-month leadership journey.
All community members welcome.
---
Leadership Westchester is supported generously by M&T Bank