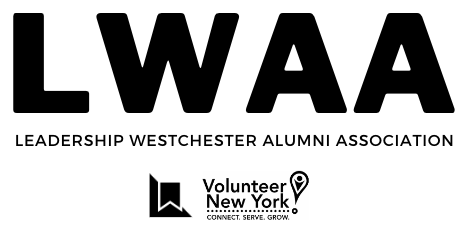 Thank you to all alumni who have invested their time in showing up since 1996.
LWAA VALUES:
Community, Learning, Service.
LWAA MISSION:
A community of leaders continuing our learning from Leadership Westchester to serve each other and our county.
LWAA VISION:
LWAA is a unique, exclusive, and dynamic movement of leaders who are . . .
1. Challenging and inspiring each other to take ownership of the opportunities to actively lead and improve our community.
2. Confronting and enhancing our own thinking through a variety of self-designed learning programs and activities.
3. A visible, prominent, and trusted resource that people turn to for leadership throughout the community.
WAYS TO SUPPORT LEADERSHIP WESTCHESTER:
LWAA Community:
LWAA Learning:
LWAA Learning Series

Mission Possible (March 2024)
2023 LWAA EVENTS CALENDAR:
---
---
NOW YOU ARE READY TO SERVE - Leadership Westchester Alum have a deeper understanding of nonprofit board responsibilities and key management tools and are great candidates for board service. There are countless places to align your personal priorities and passions with the important missions of locally-based organizations.
---
LEADERSHIP WESTCHESTER
ALUM OF THE YEAR
AWARD RECIPIENTS
2023 Alum of the Year
Neal Keller (LW'14)
Neal Keller is a 2014 Leadership Westchester alumnus who is an embodiment of leadership and community service. Beyond his active role in the Leadership Westchester community, where he mentors rising leaders, co-started a men's alumni group exploring intimate leadership and personal issues faced by members, and assists in recruiting future class participants, Neal's dedication to his community extends into a variety of valuable organizations.
A retired IT specialist from IBM's Watson Research Center and contributing author of over 25 IBM patents, Neal has leveraged his professional expertise to provide invaluable knowledge to the various causes dear to his heart. Neal made a remarkable impact teaching a Mercy College computer class in Sing Sing Prison for 15 years. Neal continues to serve on the board of Hudson Link for Higher Education in Prison, a non-profit organization focused on partnering with colleges to provide higher education for incarcerated individuals in six New York State prisons. As a board member and instructor, Neal has been instrumental in recruiting and guiding others to teach college courses in prisons.
Neal continued to expand his sphere of influence by completing a certification program at Westchester Community College to become a teacher of ESL for adults. He tutors recent immigrants weekly through the Washington English Center and for Neighbors Link, a non-profit that aids immigrants through a healthy transition into their community. His compassion and dedication to empowering immigrant populations are remarkable and have left a lasting impact.
Additionally, Neal has a history of volunteering with several organizations focused on aiding seniors. He has volunteered with DOROT Westchester, where he participated in "friendly visits" and delivered holiday packages to aging adults. At Self Help Community Services, he served as a conversation partner and taught a 10-session series on technology, helping seniors live with independence and dignity.
During the pandemic, Neal once again drew upon his professional background as he taught some technically challenged senior members of Congregation Kol in Westchester to use Zoom, enabling their continued participation in synagogue activities. He recently started a Volunteer Club at Kol Ami.
On a personal level, Neal is committed to ongoing self-development and mentoring. He makes time to study Jewish Mussar and Buddhist ethical practices to enrich his own life but also to enhance his mentoring capabilities.
Living in Pleasantville with his wife, Susan, Neal is a pillar of his community, a dedicated educator, and a distinguished volunteer. He is a testament to the power of committed individuals to effect change.
---
Recent Graduates from Leadership Westchester:
(Affiliations listed are from their time of graduation)
Rosie Acampora, PCSB Community Foundation
Anthony Bailey, Yonkers Community Action Program
Patrick Bardsley, Spectrum Designs Foundation
Chloe Fernandez, Westchester Youth Alliance
Chris Januski, JWI Group, Inc.
Nicole Lowrance, Volunteer New York!
Margarita Pineiro, YMCA of Central Northern Westchester
Alessandra Restiano, Westchester County Board of Legislators
Jessica Richardson, My Sisters' Place Inc.
Jonathan Rosen, Collaberex
Catrina Shivers, New Rochelle Municipal Housing Authority
Araceli Soriano, Westchester Community College - Mount Vernon Center
Michael Zaro, Zaro's Family Bakery