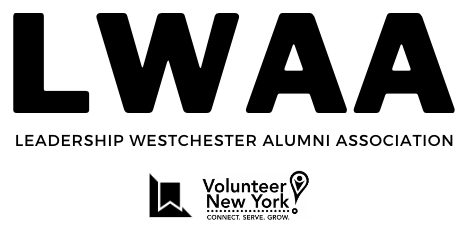 Thank you to all alumni who have invested their time in showing up since 1996.
LWAA VALUES:
Community, Learning, Service.
LWAA MISSION:
A community of leaders continuing our learning from Leadership Westchester to serve each other and our county.
LWAA VISION:
LWAA is a unique, exclusive, and dynamic movement of leaders who are . . .
1. Challenging and inspiring each other to take ownership of the opportunities to actively lead and improve our community.
2. Confronting and enhancing our own thinking through a variety of self-designed learning programs and activities.
3. A visible, prominent, and trusted resource that people turn to for leadership throughout the community.
WAYS TO SUPPORT LEADERSHIP WESTCHESTER:
LWAA Community:
LWAA Learning:
LAST LWAA EVENT OF 2022!
---
**NEW**
LW Alum December Networking Event
Includes a drink, snacks, and hors d'oeuvres
FREE / LW EXCLUSIVE
2023 LWAA EVENTS CALENDAR:
---
---
NOW YOU ARE READY TO SERVE - Leadership Westchester Alum have a deeper understanding of nonprofit board responsibilities and key management tools and are great candidates for board service. There are countless places to align your personal priorities and passions with the important missions of locally-based organizations.

---
LEADERSHIP WESTCHESTER
ALUM OF THE YEAR
AWARD RECIPIENTS
2022 Alum of the Year
Michelle A. Nicholas (LW'18)
Senior Vice President, Chief Diversity Officer and Director of Community Development,
Michelle A. Nicholas is a dedicated advocate of women, children, and inclusive issues who works locally and internationally to instigate change through intentional strategies.
As the Senior Vice President, Chief Diversity Officer and Director of Community Development for PCSB Bank, Ms. Nicholas is a member of the Bank's senior leadership team responsible for leveraging diversity, inclusion, and cross-cultural competency as well as engaging the external community on issues of development to advance the organization's mission and business objectives. She is also a member of the Bank's Foundation Board of Directors focused on providing needed funding to help meet local needs and enrich the quality of life for all throughout the Bank's footprint.
Focused on advancing the well-being of all, Michelle has used her history in and understanding of the public and private sectors to secure funding for programs to benefit those who need it most while ensuring that those who support these programs remain engaged and enthused. She has spent over two decades in various government, corporate and non-profit positions, including several leadership roles in New York City and Westchester County.
Nicholas is the founder of The Nico Consulting, Sexual Assault and Family Education (SAFEGuyana) and Co-creator of 25 Influential Women Leaders Award, and Guyana first Women's Leadership Program. She has been recognized by the Westchester Magazine, Westchester Business Council, The Network Journal, United Way of Westchester and Putnam, Face2Face Africa, Caribbean Life, and Women of Mission International for her work in bridging the gap between available resources and those who need them.
Passionate about people, community, service and committed to her mission, Michelle's civic involvement includes board membership for the United Way of Westchester and Putnam, NonProfit Westchester, Westchester's Women Agenda, and Westchester County's African American Advisory Board.
A graduate of the University of Guyana, Volunteer New York!'s Leadership Westchester, Federal Bureau of Investigation (FBI)'s Citizens' Academy, and the Mount Vernon Citizens' Police Academy, Nicholas is grateful for all that she has been able to achieve.
Michelle is very committed to her family and enjoys spending time being present with them, especially with her son Michael.
2021 Alum of the Year
Rosemary Byrnes (LW'19)
Senior Director, Patient Experience and Caregiver Services,
Rosemary is currently Senior Director, Patient Experience and Caregiver Services at Westchester Medical Center Health Network, a 10-hospital, 1,700-bed healthcare network. In this role, Rosemary transformed the network's patient advocacy, experience, employee engagement, and volunteerism. She has spearheaded the network's COVID-19 pandemic resiliency strategies, leading to hundreds of thousands of vaccinations, meals donated to frontline healthcare workers, and funds generated into the local economy.
Prior, Rosemary held multiple roles at the Citi Foundation, the philanthropic entity of the global bank Citi. Through grant-making strategies and partnerships with non-profits providing college, career, and economic opportunities, Rosemary expanded the foundation's reach to hundreds of thousands of youths in low-income communities across the nation. Rosemary also led Citi's employee volunteerism, including launching Citi's Global Community Day, which has grown to over 100,000 participants around the world annually. She contributed to Citi's receiving the Points of Light Corporate Engagement Award of Excellence presented by President George H. W. Bush in 2007.
Rosemary has a Master of Arts in Higher Education Administration and a Master of Arts in Counseling from Bowling Green State University. She has a Bachelor of Science in Applied Social Science from Binghamton University.
---
2020 Alum of the Year
Karen Cheeks-Lomax, Esq. (LW'13)
Chief Executive Officer,
Karen Cheeks-Lomax is the Chief Executive Officer of My Sisters' Place, an organization that has worked since 1978 to end violence in intimate relationships and combat the effects of domestic violence and human trafficking on women, men and children throughout Westchester County, New York. Prior to her appointment as CEO in 2005, she served as General Counsel for the organization. My Sisters' Place has evolved from a grassroots task force and drop-in center into a cutting edge leader and resource in the field of domestic violence advocacy, residential shelter, legal services, education and prevention. Based on the tenet of taking a holistic approach and addressing the root causes of family violence, MSP is continually expanding in order to effectively respond to the increasing and changing needs of individuals in crisis. As CEO, Karen has been instrumental in influencing policy and legislative changes on behalf of MSP of all survivors.
Karen has a long and rich history in providing legal services for survivors of domestic violence including a decade as Director of General Litigation at Harlem Legal Services in New York City. Prior to her work in Harlem, she served as an Assistant General Counsel with the Massachusetts Department of Social Services, and also worked as an Assistant Attorney General in the Torts Division for the Commonwealth of Massachusetts. She is a graduate of the City College of New York, and received a Master's Degree in Criminal Justice from John Jay College of Criminal Justice. She received her JD degree from Northeastern University School of Law.
---
2019 Alum of the Year
Joseph L. Ricca, Ed. D. (LW'17)
Superintendent of Schools,
White Plains Public Schools
Dr. Ricca is a graduate of the Leadership Westchester Class of 2017. A staunch believer in the power of public education, Dr. Ricca has over ten years' experience as a Superintendent in both New York and New Jersey, has served on multiple nonprofit boards, and is a community advocate with boundless enthusiasm.
Dr. Ricca is currently Superintendent of Schools for White Plains City Schools and Vice President of Southern Westchester BOCES Chief School Administrators Association. He started his career as a history teacher and advanced in his leadership roles to Principal and then Superintendent. Dr. Ricca earned his Bachelor's Degree from Seton Hall University, Master's in Education from Harvard University, a Master of Arts from Caldwell College, and an Educational Doctorate from Walden University.

He has received various honors and served in a number of consulting positons in the public, private, and government sectors. As an appointee of Governor Chris Christie, he was a member of the New Jersey Anti-Bullying Task Force and served as Chairman of the Board of Trustees of the Morris County College. In 2016, Dr. Ricca was included in the Business Council of Westchester's "40 Under 40" group.
Volunteer New York! is delighted to honor Dr. Ricca for his outstanding professional leadership, enthusiasm for engaging fellow Leadership Westchester alumni, and clear commitment to living his mission.
---
2018 Alum of the Year
NY Service + Justice Collaborative
Ms. Douglas, a graduate of the Leadership Westchester Class of 2008, Fordham Center for Nonprofit Leaders, and the American Express Leadership Academy, transitioned to the not-for-profit sector after a successful career in corporate marketing at Hewlett Packard. Her experience in the nonprofit sector is characterized by outstanding community impact work, visionary leadership, and a commitment to serve others.
At Today's Students, Tomorrow's Teachers (a career development and mentoring organization), Ms. Douglas immersed her skills and passion in organizational development with strategies that make non-profits effective and efficient. She also founded the Youth Ministry at St. Andrew's Episcopal Church and served as its Senior Warden where she set goals and policies for the parish and congregation. In her current role as the Executive Director of the NY Service + Justice Collaborative, the Episcopal Diocese of New York has entrusted her with developing, expanding, and formalizing a young adult ministry for the Episcopal Service Corps, which forms spiritually grounded leaders through community and action for social justice initiatives across the geographic region.
Volunteer New York! is particularly delighted with this year's honoree, who during her time with Volunteer New York!, served as the Manager of Workforce Development, Director of RSVP of Westchester, Director of the Regional Volunteer Center, and the Director of the Volunteer Hunger Relief Corps, wherein such time Ms. Douglas made tremendous impact within Westchester and beyond, training hundreds of nonprofits while developing new strategic initiatives to engage community members in service, using their skills and passion to build a better and just community.
---

2017 Alum of the Year
Bianca Di Salvo (LW'09)
Author, Speaker, Holistic Counselor
& Transformational Workshop Leader

Bianca Di Salvo is a 2009 graduate of Leadership Westchester. When she entered the program she spent most of her time helping large corporations understand their customers in order to make better business decisions. She was also in search of a more nourishing, fulfilling life. Inside of the Leadership Westchester program how to do that became clear, she needed to support others in finding a sense of balance, living lives that are more joyful, deeply satisfying and in harmony with themselves and the larger world around them.

The seeds planted in Leadership Westchester started an incredible journey. It has been a guiding light, leading her to be a contributing author for a best selling book series, to become an interfaith minister and to train as a Vision Quest guide.

For the past 5 years Ms. Di Salvo has offered current Leadership Westchester participants an opportunity to travel with her on a one-day transformational journey of vision and renewal in the form of solo time spent in nature. This journey gives them an opportunity to slow down, reset and hear what is really in their heart leading them to feel more peaceful, more powerful and more alive.
---

2016 Alum of the Year
Norman Fulton (LW'07)
Executive Director Emeritus,
The Brieant Youth Alliance
Mr. Fulton, a graduate of Leadership Westchester in 2007, New York Theological Seminary and a retired IBMer, has committed most of his life to working with kids. In particular he has focused on working with at-risk youth and youth who are incarcerated. Whether as a Big Brother, Director of Town Sports programs or teaching in a lock down facility for kids every week, he understands human needs and acts. During his IBM career he was given a paid 18 month leave of absence to help establish the first support center in Northern Westchester to assist families impacted by HIV/AIDS, which included childcare for low-income families, services for the elderly and at-risk youth.

As a Deacon in the Episcopal Church, he formulated and developed after school programs on leadership and the course, Conflict Resolution Without Violence for incarcerated youth. This experience inspired his book, "Yo God, What The Hell." Proceeds are donated to support programs for these kids. He is currently working with state and local officials to bring to fruition innovative ways to redirect their lives to be more productive, voting members of the community.

During his IBM career, Mr. Fulton was awarded numerous prestigious management awards. In the community, he has been recognized for his Chaplaincy with the recovery teams at Ground Zero on 9/11, honored for his work as a President of the Town of Somers Youth Program, honored by the Church of the Good Shepherd for his volunteer work, given a "Norman Fulton Day" by Westchester County and recognized by the Ossining Board of Education for his contributions to the students and families of Ossining.

Volunteer New York! is particularly pleased with this year's honoree because, as Director of our Corporate Programs from 2005-2010, Mr. Fulton successfully encouraged many companies to deepen their commitment to employee volunteerism.
---

2015 Alum of the Year
Kate Bialo (LW'07)
Founder and Executive Director,
Furniture Sharehouse
The Leadership Westchester Alumni Association is proud to announce the 2015 Alumna of the Year award will be presented to Kate Bialo (LW '07) for her outstanding leadership and professional achievement.
A corporate attorney by training, Bialo has received numerous awards in recognition of her work (including being named one of ten Woman of Worth by L'Oreal Paris in 2012) with Furniture Sharehouse, the prominent nonprofit Furniture Bank of Westchester. A resident of Westchester County for over 20 years, since conceiving of the idea of a "shared warehouse" in 2005, Bialo has helped provide over 47,000 items of free furniture to more than 8,700 individuals of need, enabling them to fill their empty apartments and begin rebuilding their lives (and keeping 280 tons from Westchester's waste stream).
As a member of Leadership Westchester's Class of 2007, the year in which Furniture Sharehouse was launched, Bialo credits the training and focus she was given in Leadership Westchester with helping her rally the resources needed to make Furniture Sharehouse a reality.
---

2014 Alum of the Year
Potoula Gjidija (LW'07)
Manager of Community Relations,
Regeneron
The 2014 Leadership Westchester Alumna of the Year, Potoula Gjidija, a native of Yonkers, was honored with an award for her many years of professional leadership as manager of community relations at Regeneron and, previously at the American Hear Association, and as well through volunteer work as a board member for Yonkers Partners in Education, board member for the YWCA of White Plains and Central Westchester, Board member for the Westchester Putnam Workforce Investment Board, Steering Committee Member of Rising Stars, and more.

In her acceptance of the award, Potoula remarked, "Leadership Westchester connected me with the issues that challenge our county and it showed me the role that I could play in making a difference. I've been very fortunate that my career path has aligned with my passion. At Regeneron, I've had every opportunity to make a difference and to move the needle on the issues that are not only most pertinent to our business at Regeneron, but to the communities in which we operate. It is less about heart strings and more about metrics and making a measurable difference, and for us our focus is STEM education, and we really look for programs that are models for change and that are replicable and scalable."

Potoula's closing remarks included her six-year-old son, "My Son's favorite [household] rule is 'leavethings better than he found them.' Which really gets to the heart of what we're all in this for . . . my son is a constant reminder of why Leadership Westchester and volunteer leadership is so essential. If we all committed every day to leave things better than we found them, imagine our collective impact, the difference we could make in our communities . . . as Leadership Westchester graduates we own that responsibility and we own that power to make a difference."
---
Recent Graduates from Leadership Westchester:
(Affiliations listed are from their time of graduation)
Nathaniel (Nate) Adams III, Boys & Girls Club of New Rochelle
Lynda Bagley, The National Council of Negro Women Inc, Westchester Section
Jill Bradshaw-Soto, Legal Services of the Hudson Valley
Kristina Coleman, Safe Horizon
Patti Colombo, Volunteer New York!
Angela Davis-Farrish, PHM, New Rochelle Municipal Housing Authority
Jessica A. Denaro, Westchester Community College
Roseanne Finizio, Westchester County Executive's Office
Suzanne Gardos, Nonprofit Westchester
Maria Camila Gomez Osorio, Office of Congressman Mondaire Jones
Althema Goodson, Ossining Public Library / Westchester County Board of Legislators / The Goodson Agency, LLC
Dahiema Grant, Grant's Professional Services
Marion Henson, Bloom Healthy
Iskra D. Hernández, Westchester Community College
Lesley Mazzotta, One World Girl
Dawn Meyerski, Mount Kisco Child Care Center
Maria (Mia) Pergolizzi, Hope's Door
Nora Phelan, Measurement Incorporated
Kaitlyn Phillips, E.J. York Inc.
Joseph Pizzimenti, Cclean
Jessica Reinmann, 914Cares
Sandhya Subbarao, Boys & Girls Club of Mount Vernon
Class of 2021
Ilana Arbeit, Charles Newman Co.
Wendy Armstrong, Volunteer New York!
Fabian O. Butts, Securitas Electronic Security, Inc
Laurie Hirsch Schulz, LHS Coaching
William Iannuzzi, Boys & Girls Club of New Rochelle
Brintha Jeyalingam, My Sisters' Place
Joel Jimenez, Hudson Link for Higher Education in Prison
Helen Jonsen, NYC Economic Development Corporation
Brendan Klein, Westchester Institute for Human Development
Julieta McPherson, Community Capital New York
Arlene R. Penn, Avatar Awareness
Lucille Renwick, Wellspring Philanthropic Fund
Max P. Silverman, Yonkers Partners in Education (YPIE)
Richard St. Paul, The St. Paul Law firm
Susan Wolfson, White Plains Presbyterian Church
Persephone Zill, Women's Enterprise Development Center (WEDC)
Class of 2020
Jinja Cuevas, WestHAB, Inc.
Gina Fedele, Housing Advocate
Joshua Gaccione, Westchester Community College
Ian Gray
Caryl Hahn
Carlito Holt, Provident Design Engineering
Meleita Jones, Westchester County D.S.P.S.
Julie Konvisser, Volunteer New York!
Sara Kula, Delbello Donnellan Weingarten
Theresa McCaffrey, Little Leaf Nursery School, LLC
Mitchell Mirtil, Westchester Medical Center
Sarah Misiano, Assured Partners
Kwame Ndzibah, M&T Bank
Enrico Rodriguez, Lifting Up Westchester
Carla Romney, Westchester Biotech Project
Sergio Serratto, Special Asst. to Sen. Andrea Stewart-Cousins
Liz Silverstein, Impact100 Westchester
Gerald Stern, Her Honor Mentoring
Maiysha Warren, USTA Foundation
Wendy Weinstein, Clay Art Center
Class of 2019
Ellen C. Bloom, NewYork-Presbyterian/Westchester
Rosemary Byrnes, WMCHealth
Robert Caluori, Westchester Library System
Beverly Carter, Westchester County Dept. of Senior Programs and Services (DSPS)
Taryn Duffy, Empire City Casino
Ky'ron Fitzgerald, Westchester Marketing Cafe
Fran Higgins, The Arc Westchester Foundation
Maureen Callaghan Jacobson, MCJ Business Advisors
Jennifer R. Machuca, Volunteer New York!
Carmen L. Martínez-López, Westchester Community College/SUNY
Brigette McLeod-Williams, The Colgate-Palmolive Company
John Rivera, Evoluer Consulting Group
Stacey Tompkins, Tompkins Excavating
Sam Wallis, Yonkers Partners in Education
Henry Wilson, Youth Community Outreach Program
Class of 2018
James Bernardo, Candela Systems Corporation
Tara Fappiano, Hawkins Rosenfeld Ritzert & Varriale, LLP
Tony Fasciano, Volunteer New York!
Laura Holdgrafer, Bunge, Inc.
Christine La Porta, Westchester Parks Foundation
Sean Maraynes, Wilson Elser Moskowitz Edelman & Dicker LLP
Valerie Mason Cunningham, Volunteer New York! Board Vice Chair
Nancy McKenna, Destination: College
Jann Mirchandani, Westchester Marketing Café
Carmelina Myers, Country Childrens Center
Michelle A. Nicholas, Family Services of Westchester
Alison Paul, Grant Writer & Yoga Leader
Jeanine Racioppo, Bridges to Community
David Ringler, CAP,CRPC, Merrill Lynch
Amy Seiden, Mark Seiden Real Estate Team, Inc.
Chirag Shah, Gateway Realty Corp of NY / Lifestyle Westchester
Stephanie Tomei, New Rochelle Council of Community Services
Kristin van Ogtrop, Writer
Marissa Weidner, Sterling National Bank

Class of 2017
Rudy Arietta, Ardsley High School
Allison Chader, Volunteer New York!
Drew Coburn, Cubism Group, Inc.
Sue Fuirst, Spiral Giving
Cheryl Gall, Bunge Limited
Colleen Gardephe, My Brother's Keeper New Rochelle
Anne Jaffe Holmes, Greenburgh Nature Center
Jane Lindau, Inspirica, Inc. – From Homeless to Home
Joe McCoy, People's United Bank
Rhea Pliakas, Volunteer at Hudson Link
Joseph Ricca, Elmsford Union Free School District
Gwen Salmo, Friends of Karen
Emily Saltzman, Consultant
Mike Sava, IBM - Thomas J. Watson Research Center
Jeffrey Shaver, PKF O'Connor Davies
Jill Singer, Jill Singer Graphics
Susan Weisman
Juliana Wynohradnyk, St. Christopher's, Inc.
Susan Zucker, Virginia Marx Children's Center at Westchester Community College


Class of 2016
Blakely Brodbeck, Family Services of Westchester
Anna Bruno, Webster Bank
Barry Butlien, Westchester Financial Advisors
Heriberto Contreras, MVP Health Care
Laura deBuys, The Picture House Regional Film Center
Mario DiMaria, Bunge Limited
Sharon Douglas, Impact100 Westchester
Coralie Dowdye-Joseph, Kairos Outside New York City
Ashruth Easwar, Regeneron Pharmaceuticals, Inc.
John Foligno, Cubism Group, Inc.
Sara Grubel, McCann Human Care
Alissa Kosowsky, NewYork-Presbyterian Regional Hospital Network
Marcia Levy, Pro Bono Partnership, Inc.
Robin Melén, Westchester Community Foundation
Ruth Nirenberg, ANDRUS
Nina Orville, Abundant Efficiency, LLC
Katherine Pfeifer, Volunteer New York!
Arlene Rodgers, M&T Bank
Laura Rotter, True Abundance Advisors
Henry Wanamaker, Youth Shelter Program of Westchester
Todd Young, Hudson Link for Higher Education in Prison


Class of 2015
Hamra Ahmad, Hudson Valley Justice Center
Donna Banks, Communications Professional
Noam Bramson, City of New Rochelle
Alicia Brockway, M&T Bank
Lauren Candela-Katz, LCK Consulting
Ian Ceppos, Colliers International
Karen Daugherty, Bunge
Judy Eisele, YWCA of Westchester
Tessa Garcia, The Journal News Media Group
Lini Jacob, United Way of Westchester and Putnam
Lindsey Jones, Axiom Legal
Lindsay McAllister, Reader's Digest Association
Kathleen Reckling, ArtsWestchester
Laura Rossi, Westchester Community Foundation
Rosie Samudio, Volunteer New York!
Paula Saraiva, People's United Bank
Diane Tukman, My Sisters' Place
Jackie Vanover, Network System Solutions
Sabine Werner, Leviticus Alternative Fund
Tracey Zimmerman, The Westchester Bank


Class of 2014
Donna Besteiro, Caring for the Homeless of Peekskill Inc.
Elaina Dionisopoulos, M & T Bank
Susan Edwards, Westchester Community Foundation
Melinda Herman, City School District of New Rochelle
Jonathan Hotz, Bunge Limited
Neal Keller, Hudson Link for Higher Education in Prison
Cindy Lopane, March of Dimes
Rick Magder, Groundwork Hudson Valley
Carolyn Malile, Reader's Digest Foundation
Melinda McFadden, Cardinal McCloskey Community Services
Janine Napierkowski, Ripley's Believe It or Not! Times Square
Christian Philemon Esq., Youth Shelter Program of Westchester
Jared Rice, Rice and Rice Attorneys at Law
Claire Satenberg, United Way of Westchester and Putnam
Geoff Schmits, Volunteer New York!
Nicole Sheindlin, Her Honor Mentoring
Heidi Siesfeld, Wave Hill
Amy Siniscalchi, My Sister's Place
Ellen Sonet, Health Care Marketing & Communications Consultant
Marya Ugolnik, Concorde Executive Search


Class of 2013
Francely Bernard, United Way of Westchester and Putnam
Patrick Brennan, The Westchester Bank
Olivia Ecker, Regeneron Pharmaceuticals, Inc.
Edward Forbes, The Journal News
Jill Gottlieb, Caregiver Center Replication Program at Northern Westchester Hospital
Jennifer Gruenberg, White Plains Hospital Board of Directors and Westchester Community College Foundation Board of Directors
Mary Jo Jacobs, Human Resources Consultant
Maire Brosnan Katavolos, Community YMCA of Northern Westchester
Ann Kilbourne, Bunge Global Agribusiness
Marjorie Lang, M&T Bank
Karen Cheeks-Lomax, My Sisters' Place
Sharon Masciovecchio, March of Dimes
Drew McKay, Arben Group LLC
Elizabeth Phillips, Hudson River HealthCare
Frances Shahar, Association of Development Officers (ADO)
Deborah Silverman, Financial Consultant
Julie Sootin, Westchester Children's Museum
Katherine Stipicevic, PepsiCo
Raymond Wong, TD Bank
John Wool, Berkeley College


Class of 2012
Andrea Bloome, Alchemy Post Sound
Sara Cashen, Greenburgh Nature Center
Kathy Doscher, IBM
Kimberly Foster, The Westchester Bank
Joan Grangenois-Thomas, Public Relations Consultant
Kathleen Haverlack, United Way of Westchester & Putnam
Daniel Huang, M&T Bank
Monica Ko, Community Volunteer
Kevin Langtry, CBRE, Inc.
Nancy Levin, My Sister's Place
Annette McLaughlin, Career Coach
Leigh Taylor Mickelson, Clay Art Center
Anthony Montalbano, YMCA of Central and Northern Westchester
Julia Salem-Emrick, Westchester County Association
Kristine Stallone, American Jewish World Service
Nicole Stansbury, YWCA of White Plains & Central Westchester
Joanne Taylor, Housing Development Fund
Laura Traynor, Center for Aging in Place
Nathalie Monin-Voelker, Volunteer New York!
Paula Wedlaw, The Earth Institute Columbia University