2023 Leadership Westchester Graduation Ceremony &
Westchester Community College Gateway Center
in Valhalla, NY
---
Rosie Acampora, PCSB Community Foundation
Carlos Andrade, M&T Bank
Anthony Bailey, Yonkers Community Action Program
Patrick Bardsley, Spectrum Designs Foundation
Joan L. Feinstein
Chloe Fernandez, Westchester Youth Alliance
Kareema Gathers
Chris Januski, JWI Group, Inc.
Patti Jewell
Nicole Lowrance, Volunteer New York!
Marlene McLarty
Margarita Pineiro, YMCA of Central Northern Westchester
Dylan F. Pyne
Alessandra Restiano, Westchester County Board of Legislators
Jessica Richardson, My Sisters' Place Inc.
Jonathan Rosen, Collaberex
Catrina Shivers, New Rochelle Municipal Housing Authority
Araceli Soriano, Westchester Community College - Mount Vernon Center
Stephanie Tkach
Michael Zaro, Zaro's Family Bakery
---
CONGRATULATIONS TO THE 2023 LEADERSHIP WESTCHESTER
ALUM OF THE YEAR
Congratulations Neal Keller, Hudson Link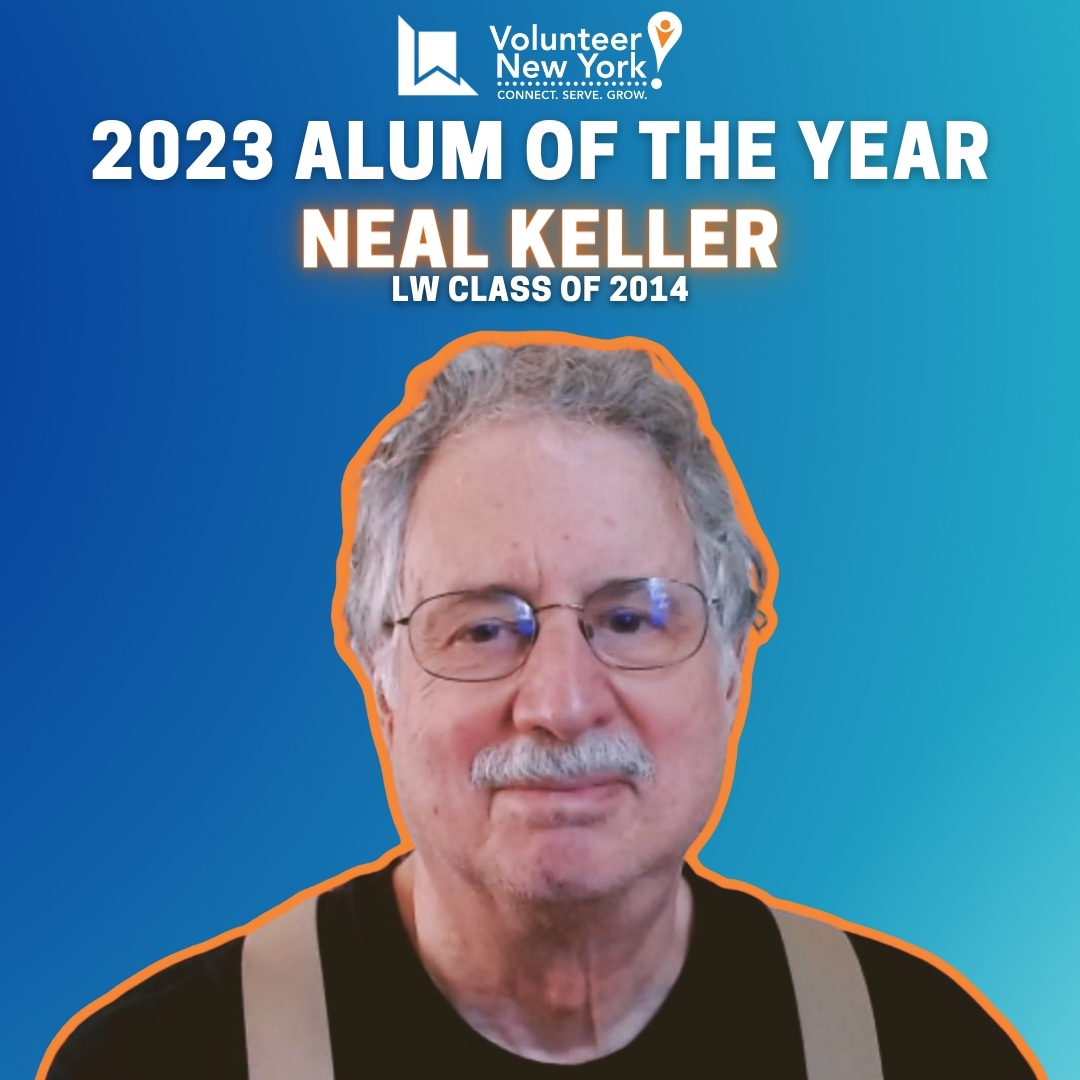 ABOUT ALUM OF THE YEAR
Neal Keller, Hudson Link
Leadership Westchester Class of 2014
Neal Keller is a 2014 Leadership Westchester alumnus and has participated in interviewing candidates for Leadership Westchester. He was one of the founders of a men's discussion/support group for Leadership Westchester alumni which has been meeting for over two years.
Neal is retired from an IT career at IBM's Watson Research Center where he was one of the authors of over 25 IBM patents. Neal taught a Mercy College computer class in Sing Sing for 15 years and has served on the board of Hudson Link for Higher Education in Prison since 2011.
He recently completed a certification program at Westchester Community College to become a teacher of ESL and currently volunteers in person and online to tutor immigrants. Neal lives in Pleasantville with his wife Susan.
---

UNLOCK YOUR FULL POTENTIAL
Volunteer New York!'s nine-month Leadership Westchester program is designed to sharpen effective leadership skills and provide you with the clarity to define and achieve your personal and professional goals.
The application period for the Leadership Westchester Class of 2024 is currently open. Please reach out to connect with an alum of the program if you have any questions. Inspired by these amazing leaders? This could very well be YOU celebrating your nine-month leadership journey.
All community members welcome.
---
Leadership Westchester is supported generously by M&T Bank and The Westchester Library System