Getting Things Done
An Interview with Wendy Armstrong, Director RSVP of Westchester
When Wendy Armstrong jettisoned her long career in publishing to forge a path in nonprofit and volunteer work, she was met with plenty of puzzled stares. They said, "Don't quit without a job." She heard, "What are you doing? You're going to get paid less money. I don't understand this." But the truth was, she'd been dividing her time between professional commitments and charitable pursuits all along, and had only recently decided to make the latter her primary occupation. Or, as the Sleepy Hollow resident and new Director of Volunteer New York!'s
RSVP of Westchester program
—which connects 55-and-older volunteers with ongoing ways to impact their community—puts it, "For goodness sake, this is no surprise."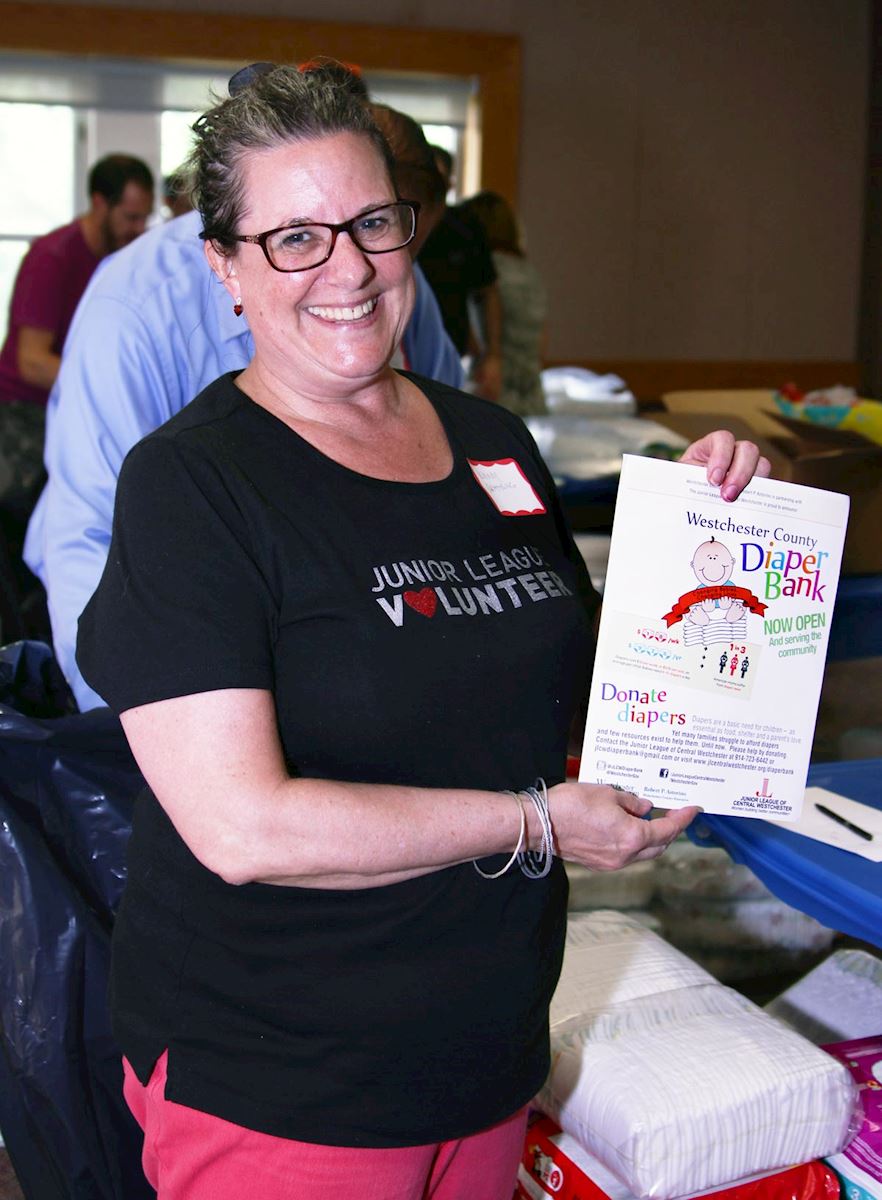 As it happens, Armstrong's role supervising RSVP of Westchester marks her second stint working as a Volunteer New York! team member (she previously oversaw the now-retired Volunteer Hunger Relief Corps program). And it's only the latest in a string of similar posts she's assumed—paid and unpaid—for organizations including Feeding Westchester in Elmsford and the Junior League of Central Westchester, for whom she helped launch and still helps lead the
Westchester County Diaper Bank
. Looking at her trajectory, it seems apropos the motto of the 900 active Senior Corps members in Westchester is "Get things done." Something Wendy has been able to do for quite some time across fields and disciplines, but with her noted big smile and laugh along the way.
As Armstrong settled into her first days as Director of RSVP of Westchester, we spoke with the one-time St. Lawrence University French major and new york publishing professional about the nature of her lifelong commitment to helping others and balancing that with—and eventually prioritizing it over—a more conventional working life.
So, let's talk about your degree in French….
[Laughs] My father got transferred [for his job with IBM] to Paris when I was in high school. I was the oldest of four kids, and we went to the American School of Paris. I came back to the States to go to college and was watching my family improve their language skills, so I thought, "Hey, if I study French on this side of the ocean, at least I'm keeping up with it." At that time, I was thinking and dreaming in French, but it disappeared.
But at least it demonstrated your penchant for adaptability.
We were a very tight family, moving from place to place. With each place we moved, we kids went to school, my dad went to work, and my mother did volunteer work. That's how she got her connection to the community. I emulate her. When I got married and had kids and bought a house, it was, "Well, now I'm going to get started doing this. I want to help. And I joined the Junior League 26 years ago."
What was the turning point when you decided to do more than volunteer and move fully into nonprofit work?
When we launched the Diaper Bank, it was so satisfying. That's what prompted me to say, "I want to do this kind of work full-time." So I quit my job, and by networking, I moved into the nonprofit career. Since 2014 we've helped pack and deliver over 500,000 diapers, which in turn is about 10,000 babies receiving enough diapers for a week. That's 10,000 families with a little less struggle in their life, which is an incredible thing to be a part of.
A family meets the volunteers behind the Westchester Diaper Bank. Filmed in 2017 at 9/11: Serve + Remember by ScaryMommy.com.
How can other individuals at similar crossroads follow your lead and make that leap?
Volunteering is the best way to do it, so you understand the mission and gather the passion and want to do the hard work to get that done. As you develop those skills, you start to realize, "Hey, this is something I do and can do well and maybe I want to do this all the time."
Did you initially find there to be broad awareness among Westchester residents regarding any neighbors in need?
Often, people will be shocked—"Oh, that can't possibly be," because it's going against the perception of what it means to live in Westchester. And sometimes it's hard to find people who want to support because they don't expect there is a need to. It actually makes for the bigger challenge, because it's so expensive to live here. Imagine not making money or being able to get by, and there you are, and you followed family or friends to this area or whatever it is, and it's a struggle.
Do you find yourself sympathizing with how hard it must be for recipients of charitable donations to accept help?
As a matter of pride, it is hard. People don't want to take things from other people, but they have to take care of themselves with food and diapers and clothing and other things. Having volunteers that care too . . . that helps create a sense of community, which can transcend a lot of things.
Your new role with Volunteer New York! is all about getting out there and inspiring people to help, so that must be motivating.
That's the joy of this new position. I'm working with the senior population directly, and they do want to continue to contribute. They want to do something with meaning and stay active and socialize—that's what's missing once you retire or when your kids have left the nest. The RSVP of Westchester program has all that. You don't need the money, but can give the time. I can't wait to get started. Senior Corps gets things done, as they say.
P.S. To anyone reading who is not ready to think about retiring yet, who do you know in your family or friends that could benefit from being part of the RSVP of Westchester community? Adults over age 55 who volunteer are known to live longer and frequent the hospital less than those who don't.
* * *
Ready to help improve the lives of all generations living in Westchester?